Decorative concrete allows you to express your personal style with colours, textures, and treatments to produce a 'wow' effect within your home, landscape, and entertainment area. With higher foot traffic surfaces such as walkways, patios, driveways, and pool areas, you want to ensure you select a quality coat solution for your decorative concrete.
Different types of decorative concrete coatings can give your floors a polished look while others increase traction and provide a slip resistance surface when wet. Some concrete coating options are even scuff and stain resistant and can withstand moisture exposure for extended periods of time without becoming damaged.
These concrete coatings are often used on flooring surfaces because they offer many benefits over natural concrete. A concrete coating can be applied without the need for expensive tools or equipment, offers increased durability, and provides availability for a multi colour finish.
What are decorative concrete coatings?
Concrete coatings are materials and chemicals applied to the surface of your concrete to not only provide protection but to enhance appearance. There are many different types of concrete coatings, each with their own benefits such as:
Resistance against slippery surfaces when wet from pool water or rain
Increased resistance against scuffs, stains, and moisture exposure
Increased durability from wear and tear over time
Added texture and colour features
How concrete coatings are applied
Concrete coatings are generally applied in one of two ways: spraying or rolling. Spraying concrete coatings is the most common coverage method and involves using a concrete sprayer to apply the coating material to the surface. This method is often used for large areas and offers a quick and easy way to apply the coating.
Rolling concrete coating is a slower but more accurate way of applying the solution to fill all areas. This method is often used for a smaller space and gives a more consistent finish.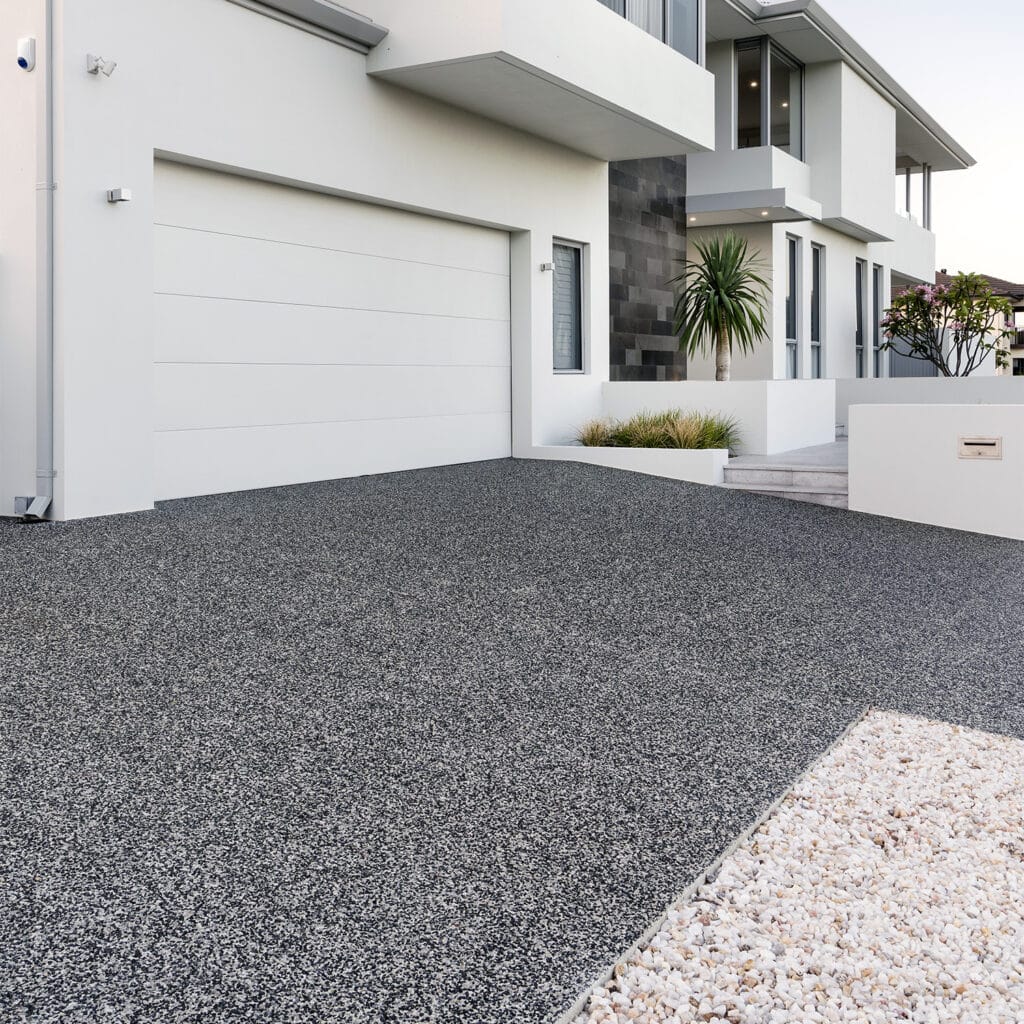 Benefits of using decorative concrete coatings
There are several benefits for applying a coating onto your decorative concrete surface some of which include:
When utilising decorative concrete in your pool area opposed to wooden pool decks, you have a long lasting, low-maintenance solution
Easy application for your concrete floor project, no need for a brush, just spray or roll on!
A large variety of coating colours to select, goodbye boring plain concrete
Add textured features and treatments for that 'wow' factor
Simple to purchase from your local supplier
Resistance from scratches and abrasions
Types of decorative concrete coating
Epoxy coatings are typically made from two distinct elements: a resin, and a hardener. When mixed together, they form a strong coating that is resistant to scuffs, stains, and moisture. Epoxy is often used on concrete floors because it provides a glossy finish that can be polished to a high sheen. Plus, there is a range of colours and decorative options to choose from making your decorative concrete floor unique to your home.
Polyurethane is a layer applied to the surface of decorative concrete to protect it from elements such as corrosion, weathering, chemicals, abrasions, and other deteriorating elements. Polyurethane is a high gloss, non-yellowing coating which is easy to clean, hard wearing, and scratch resistant. Available for both interior and exterior surfaces, you will ensure your flooring has a high quality finish lasting years to come.
Formulated in the early 90's, polyaspartic floor coating is a hybrid product of polyurethane. The main difference between the two is the cure time. Whilst polyurethane tends to take 24-48 hours to cure, polyaspartic floor coating cures within just a few hours! With brilliant reviews from business owners, polyaspartic a is popular product for a high foot traffic area such as a restaurant or café, a commercial space, a showroom, or an industrial garage.
As a single-component waterborne floor coating, acrylic provides brilliant coverage for both indoor and outdoor surfaces. Offering a quick drying solution, acrylic concrete sealers are slip and abrasion resistant and has an easy water clean-up surface. As a decorative concrete sealer opposed to a penetrative coating, acrylic flooring protects your concrete from dust, mildew, mould, and basic spills.
How to maintain your coating
Maintaining your concrete floor is an important part of ensuring that it lasts for many years to come. Here are a few tips on how to do this:
Regularly sweep or vacuum the surface to remove any dirt or dust and other debris
If the concrete begins to look dull or faded, polish it with a concrete polishing kit
Do not use harsh chemicals or cleaners on the concrete
Clean any spills or stains as soon as possible
Decorative concrete coatings are a great way to protect your decorative concrete floor from elements that may cause it to deteriorate. Epoxy, polyurethane, polyaspartic, and acrylic sealers are all popular products for residential and commercial spaces because of their versatility in appearance and application. If you're looking for the perfect concrete coating for your space, reach out to our friendly team at Terrastone. We can help you choose the right type of concrete coating based on your home and lifestyle.